We were wrapping up a team meeting at Mission Belt HQ and just about to head home for the day when Zac got an unexpected call…from Kevin O'Leary's assistant. 
At least, that's who she said she was.​
Was it a prank call? Nope. "Mr Wonderful" was in town shooting a follow-up segment for one of the Shark Tank companies he had invested in and apparently he wanted to know if he could stop by and say hello.
Ummm…yes, Kevin, you can stop by to say hi any time you want. Of course we said yes!
It wasn't long before a black luxury car pulled up outside our door and Mr Wonderful got out of the back seat.
We weren't quite sure what to expect. After all, his TV persona is pretty formidable and prickly.
But the man was pure class. Warm, personable, funny, genuine.​
Did he really just swing by to say hi to some Shark Tank survivors?!?!​
After some chit-chat, he told us the real reason he stopped by was because he was hoping he could buy some belts from us while he was in town.
You see, when we had our appearance on the show 3 years earlier, Nate had gifted each shark one of our no-holes belts.
Mr Wonderful absolutely loved that belt he had been given. In fact, he loved it so much, he told us it was the only belt he had worn since that day of the pitch on Shark Tank….3 years earlier….
And here's one of the secrets to his success: successful people stick with things that work — products and people.
Kevin found a quality product he loved and then he used it until it was just about worn out.
We were beyond flattered he would take time out of his trip to get more of our product. We loaded him up with belts, of course, and told him his money was no good at HQ. So you know what he did?​
And here's the second secret of his success…​
He immediately rewarded our gesture by using his influence to lift our brand. The way he did it was by posting that pic above to his 287k Instagram followers. As in, 90 seconds after he left our office, that picture was posted on IG. 
…As an aside…you'll notice the picture was too wide so I got cropped out of the IG post. Haha. Oh well. 
Now this last secret is sort of a guess but it came about because we were confused about one thing. Kevin is obviously very successful and very wealthy. 
So why hadn't he simply told his assistant to order some new belts for him when he decided he wanted some new ones?
Our guess: he knew he could execute a classic win-win with a small investment of time.​ He was able to use the experience not only to extend our brand influence, but also his own by posting about a past Shark Tank company still having tremendous success.
Win for him, win for us, all for a 30-min detour. Not a bad use of time.
How Does This Relate To eCommerce Marketing?
Here's where the story changes direction quite a bit. After this experience, we decided to blog about it and use the story as a "trigger" for one of our Evergreen campaigns on Facebook.
We targeted a lookalike of our existing buyers and layered it with people who like Shark Tank or Kevin O'Leary. We also excluded past site visitors of 180 days and broke out our ad sets using income brackets: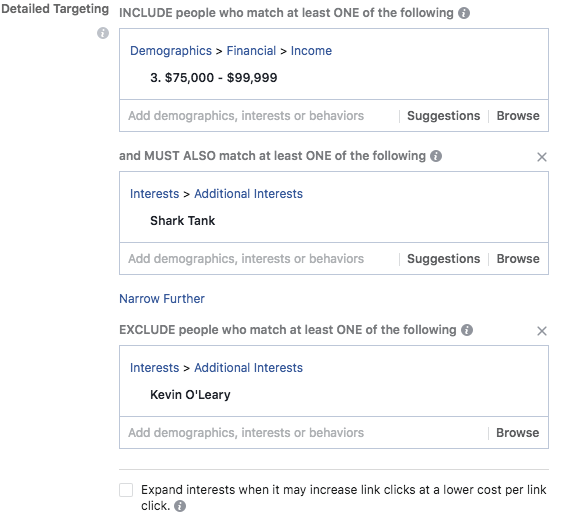 The results were pretty solid on the front end. The blog post was engaging enough that it drove sales equal to about 60% of the ad spend. Not bad for a top-of-funnel campaign!
And we realized that if we targeted only high-income earners, we drove sales equal to 100% of ad spend. Again, remember that this is cold, top-of-funnel traffic!
From there, we retargeted the people who engaged with this trigger by using a nurture ad sequence designed to move them down our buying funnel to become a customer.
The beauty of a campaign like this is it can run for a very long time. Or in other words, it's EVERGREEN. Those are the best type of campaigns to have because they are profitable and low-maintenance.
So thank you Mr Wonderful for not only teaching us a few things about being successful, but also giving us a new profitable evergreen campaign.
If you want to learn more advanced e-commerce marketing techniques just like this one, check out my DIY training.
Or for a managed solution, book a Strategy Session to discuss your e-commerce advertising.